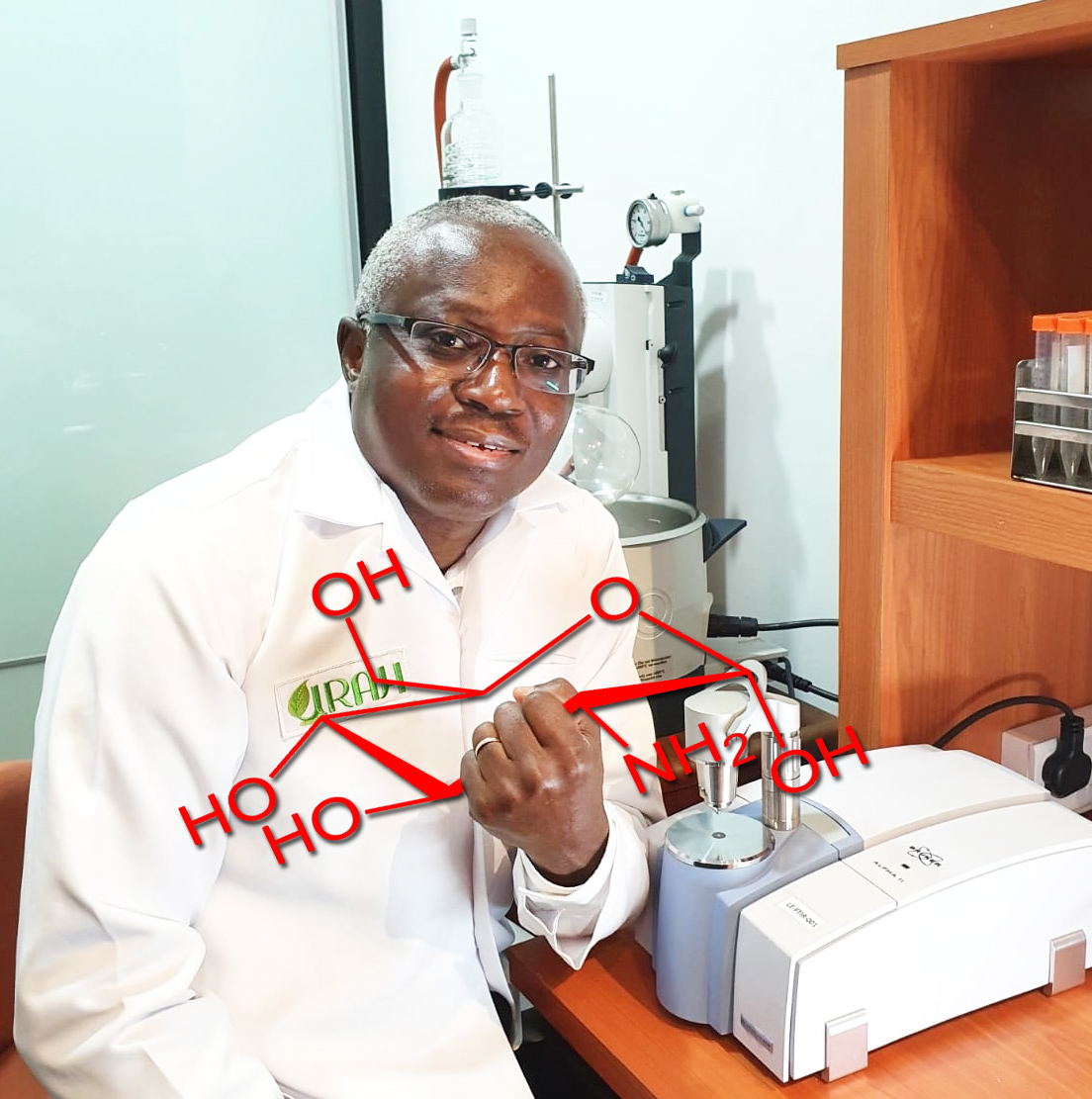 Dr. Obaje holding Glucosamine Molecule (Model)
Meet Dr Obaje, the scientist behind URAH.
I'm a research scientist and I love research! I was a lecturer in the university and now an industrial chartered scientist & chartered chemist in the UK with many research publications. I hold technology patents in the US, Japan and in Singapore.
What motivated my research on glucosamine?
Curiosity!
There are not many biological molecules with so much history of controversies, misunderstanding and misinformation as Glucosamine. You can actually say that Glucosamine is one of the most "abused substances" in the market today. The layman taking Glucosamine, the Doctors and the pharmacists in the hospitals, and the laboratory scientists, they all have different stories and views about glucosamine. Even health regulatory authorities classify Glucosamine differently in different countries. While some countries classify Glucosamine as drug, others classify it as supplement, yet other countries classify Glucosamine as natural product.
As a scientist, I wanted to find out as much as possible about Glucosamine and to understand what really was going on.
Many test-tube laboratory studies have showed Glucosamine to be effective in enhancing the growth of soft tissue cells and with potential to relief joint pains. But many independent clinical trials have showed Glucosamine to be ineffective on patients.
Why is Glucosamine effective in the test-tube but not effective in human clinical studies? Our research team began to realize that the real problem was not with Glucosamine itself but with the delivery process of Glucosamine.
The big challenge was how to deliver this important biological molecule to the body.
Delivering Glucosamine orally, which was the predominant method at that time, was ineffective due to low absorption of Glucosamine in the digestive track.
Also, the acidity of Glucosamine compounds could create gastric toxicity and other side effects when taken orally
You cannot inject Glucosamine compounds directly into the blood stream.
If applied as a cream, the skin acts as a barrier to keep everything out.
Unlike other food supplements, there is no food you can eat to get more Glucosamine in your body.
As you can see, this was a real challenge and I asked myself "Why is such an important biological molecule, so difficult to deliver into the body?"
This challenge triggered me to get into the research and to find a solution.
I found out much later though, that "scientific solution" without access to the "market" to provide to the people who really need the "solution" is a wasted effort. How to take the final product to the market became my second challenge!
As a scientist, I'm focused on finding a solution to help people to overcome their difficulties and, in this particular instance, reduce aches and pains, improve mobility and ultimately promote active lifestyle and healthy living.
But I came to understand, like many start-ups and SMEs, that most owners of capital have a different focus. Their focus is more on achieving immediate profits and return on their investments than the delivery of technology or product promises to end-users.
Some investors actually walked out on us because we did not want to add menthol, capsaicin, camphor or eucalyptus to create the temporary placebo "cooling or heating sensation" in Urah Cream, which does not add any value to the functioning of the cream at all.
Although I understood where they were coming from, this mindset did not align with the vision we had for Urah products and Urah Company.
So, what choice did I have?
Abandon this project and return to my lecturer job in the university? or
Commit myself to helping humanity in whichever way possible?
I chose the latter option, though more challenging. Because that felt like the right thing to do and suits my principles as a scientist.